All you ever wanted to know about Piñatas
The piñata, a long-standing and popular accessory for children's parties, is no longer categorized as being "for children only." Piña Piñatas has taken the piñata off the assembly line and created a new line of artistic, hand-made piñatas that appeal to both children and adults alike. And now, we're ready to show you how we do it! Making piñatas can be even more fun than breaking them!

Now you and your children can create your own custom-made piñatas using our easy step-by-step guidelines! What a great way to have fun with your kids while they create and expand their learning and artistic skills!

Piñatas make great adult craft projects too! Art is therapeutic and expressive and you don't have to invest in expensive supplies and tools to make a piñata. The majority of the materials are already in your home.
On this site you will find:
How to make unique piñatas without following a pattern

Paper maché piñatas
Foam board/card board piñatas
Release mechanisms for reusable piñatas

Ideas and suggestions on how to make piñatas with your children

Detailed instructions for specific models

Photos
Illustrations
Lists of materials
Tricks of the trade

This is like a piñata-making course! Because you are in charge, you can customize each and every design to suit your style and needs. There is no limit to what you can create!

Plus, because we show you how to create both the "pull-string" and the traditional breakable styles, your piñatas can be re-filled and re-used time and time again.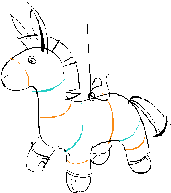 Piñatas can be used for housewarming parties, bridal and baby showers, bachelor and bachelorette parties, homecoming parties, holiday gatherings, theme parties, graduations, going-away parties, picnics, political rallies, office parties -- any event you can imagine. Likewise, the contents of the piñata can be anything you imagine -- from traditional candy and small toys, to small household gadgets, to holiday favors, to business novelties!
Save money, time & gasoline!
Visit our sister site Shopping Shortcuts to find bargains on Arts & Crafts, Toys, & more.
---